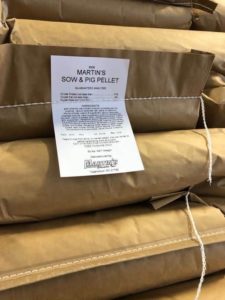 Martin's Sow and Pig Pellet
Ideal for growing pigs and sows. For piglets weighing 15 to 50lb, this feed meets the special protein, vitamin and mineral requirements for their rapid growth. Lactating sows benefit from 17% ration due to the added vitamins and biotin, which help achieve optimum litter size and continued breeding herd health.
Akey Gro-Fin 46-37 w/ Phytase
Akey Gro-Fin 46-37 with Phytase includes added lysine to improve lysine balance and lower the required soybean levels needed in the grow-finish diet of swine. This feed includes vitamins and mineral fortifications to support high levels of performance while still being cost effective.
We also offer a variety of SPECIAL ORDER Akey Swine Premixes, Akey Show Pig Nutrition Products, and Sunglow Feeds including:
A-550 Complete Pig
A-175 Starter Base
Sow HP 100 Meal
Sow HP 50
4-80 fat
Akey Show Base w/ Chromax
Farrow Pak Plus
Akey Nurse On Baby Pig Milk Replacer
Sow Micro 5
Toll Free 800
Classic 700
Solution 1200
Complete #1 100
Tune Up 300
Final Thrust
Explode S-910
ADD- Vantage
4 Sure
Definition
Sunglo Power-Up Nugget