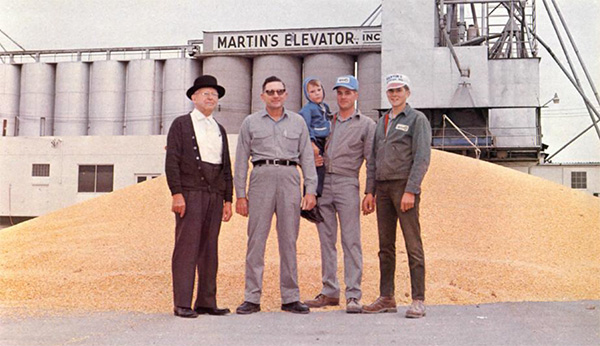 And the LORD said … while the earth remaineth, seedtime and harvest…shall not cease." -Genesis 8:21-22
Begun by Andrew Martin and his son Chester, in 1949 as a poultry hatchery, the business has grown into a 5th generation business; providing feed, grain and fertilizer to the four state region of MD, PA, VA, and WV.
In addition to the grain terminal services of importing and exporting grain, Martin's is also a state of the art feed manufacturing facility producing dairy, beef, poultry, and swine feeds. As an independent Southern States and Seed Consultants dealer we offer a wide array of seeds and various products including: hardware, fencing, and supplies to accommodate home, garden, and farm.
Our fertilizer division produces and blends various standard and custom analyses in both bulk and bagged forms. The chemical department complete with spray rigs and equipment provides complete crop care from planting to harvest. The livestock and farming business is ever-changing, we're always learning; yet at Martin's, after seven decades one thing hasn't changed – our commitment to quality products and customer service.
Welcome to Martin's Elevator, we look forward to serving you!